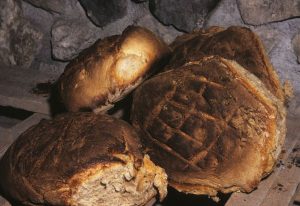 From Friday 17 to Sunday 19 November 2017.
Baking the "PoBuli" in Villar d'Arene village. A thousand-year tradition at the heart of village life, the autumn breadbaking brings together local families and their friends for three days of kneading, baking and tasting… You can discover and experience this tradition, taste the bread and local specialities.
The scarcity of wood probably explains the custom of the canton: the third weekend of November, just before the first snow, the community is active for several days. They prepare, according to an unchanging recipe, boiled bread or "pô buli" in patois. An intense and important moment, because the inhabitants of the village made this bread only once a year and kept it all year long. At that time kneaders made this bread with rye flour and boiling water, hence its name. Farm in mass of 5kg, it cooks during 7 hours.
Even today, the tradition continues in the Pays de la Meije in the village of Villar d'Arène. The families chained the cooking in a warm and friendly atmosphere to the greatest pleasure of the people who come by and also able to taste the culinary specialties, pies, ravioles, pumps and other crozets.
Formerly were cultivated rye grain that best supports the harsh local conditions.
The bread was baked once a year and eated all year long.